A journalist with over two decades of experience, Maribel Perez Wadsworth began her career with the Rockford Register Star in Rockford, Illinois. It was her first foot in the door at Gannett. Two years later, she would take a position at the News-Press in Fort Myers, Florida, where she spent 13 years across various job titles, followed by a job as director of digital content strategy for all Gannett newsrooms at the corporate office in McLean, Virginia. In a matter of only a few years, Wadsworth has steadily gained influence in one of the leading news and marketing companies in the US.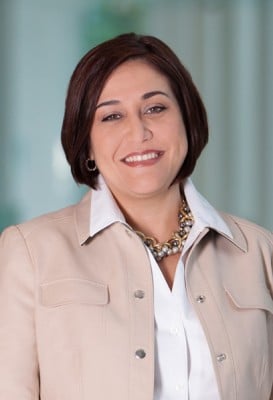 As Wadsworth became more deeply involved in the business side of the company, she applied her active listening skills to learn how she could make the greatest difference. "Those reporting skills are applicable to everything," she says. "You don't know what you don't know, so you learn to ask the questions." This would prove especially relevant as Gannett navigated a major company transition over the last year.
As with any publicly traded company, leadership must weigh how to best drive value for shareholders. Because Gannett had grown to offer a wider set of services over the years—from broadcasting to publishing, digital initiatives, and digital marketing—the board of directors determined in 2015 that the greatest value would be found in dividing those offerings into separate companies.
As a result, in June of that year, a new Gannett was launched as a stand-alone company, retaining the original name. Wadsworth's commitment to learning and asking questions was instrumental in guiding her through the split, and it remains at the core of her leadership in her current role as senior vice president and chief strategy officer.
These days, Wadsworth is excited to see several key ideas and strategic initiatives come to fruition. The split created a clean slate to organize around functional units, and for strategy to take center stage. "In the months leading up to it, we grounded ourselves in our purpose while looking ahead at goals for the next three years and how we would achieve them," she says.
One such goal is to grow Gannett's footprint by consolidating the industry, acquiring the right people, and building great teams; already, it's the largest news-gathering operation across the nation, with more than 3,000 journalists in 92 local communities (soon to be more than 100 markets with the pending acquisition of Journal Media Group). Another key goal is to plan coverage in a way that elevates important local issues to national dialogue. A third is to diversify and leverage existing assets. "It boils down to optimizing our existing business by applying expertise to diversify and invest in the future," Wadsworth says.
These goals fall under Wadsworth's main responsibilities of strategic planning. She and her teams engage across the company to determine what customers want and how Gannett can best provide that. She has ensured the data and analytics are a key driver in decision-making. This process is also closely filtered by the company's long-term strategy and goals. "I steer our teams to think about Gannett's four or five deepest issues and how to prioritize them by asking how closely what we're doing is aligned with our long-term strategy."
A unique way that Gannett approaches strategy and the generation of new ideas is through its "Innovation Lab," a new segment of the company dedicated to utilizing the creativity of its 19,000 employees to the fullest extent. "We know our people are smart and have good ideas," Wadsworth says. This invitation is rooted in goals of revenue and audience diversification, as well as building on ideas that come from the executive team, all in a way that encourages further development of employees themselves.
"Our employees have direct interaction with our consumers and advertisers, so they naturally have ideas about how to effectively sell things," Wadsworth explains. "They might not have all the resources to build it, but we can connect the dots in the Innovation Lab so they can benefit from each other and the rest of the team. That kind of engagement is so exciting."
Having devoted the majority of her career to Gannett, Wadsworth believes wholeheartedly in the value and quality of the company. Her love for good journalism fuels her belief that there is no greater impact in a community than highlighting issues and connecting people to resources and to each other. "It's who we are," she says, "and I feel a great sense of commitment to helping the company succeed and grow."
That sense of loyalty is prominent among Gannett employees, as is commitment to the organization's core mission of helping communities. And of course, at the heart of it all is the ability to ask good questions and truly listen. As Wadsworth has demonstrated, those skills go far beyond journalism and have positioned Gannett to develop compelling ideas, gain greater audience engagement, and deliver the highest possible value for shareholders and customers alike.