We don't always know our calling, says Jimmie Lopez, director of human resources for Four Seasons Hotel San Francisco. After many years in the industry, he admits his start was somewhat accidental.
When Lopez was nineteen, he and his mother moved to San Diego to live closer to her parents. Their former house had been foreclosed on, and Lopez needed a job. He applied to a temporary employment agency and found himself working as an administrator for a startup company. Showing up the first day of work in clothes that he had bought the day before, Lopez admits he might not have had all the skills, but his enthusiasm and dedication impressed the company.
"They sent me home with food every day so that my mom and I didn't go hungry," Lopez recalls. "A few weeks later, I was hired full-time and I eventually spent five years with them."
From his first days at the company, Lopez took his role to heart. By paying attention to the inner workings of the company, he learned quickly what it takes to start a company from scratch.
"I had this amazing exposure to what it's like to be a jack-of-all-trades," Lopez says. The self-starter used the opportunity to "absorb every piece of information that I could. I was basically scanning what I could into my mind."
He credits his ability to learn on the job to the company's culture that included recent college graduates as well as long-time employees at tenured functions. After five years, he joined a luxury apartment company in Southern California, where he got his first taste of working with a "higher-end product."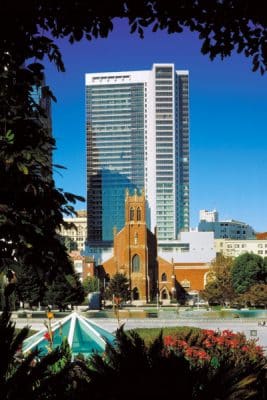 Using those skills, he eventually relocated to San Francisco, working for a luxury property company where he was inside an office cubicle for most of the day. Realizing that the corporate environment wasn't for him, he looked for a new position where he could interact with people every day, eventually landing at a hotel.
Now, as the director of human resources at Four Seasons, every day is different for Lopez. From working on focus groups that support women in leadership initiatives to talking with labor representatives from local unions, Lopez values the one-on-one connections he has with his colleagues.
When it comes to giving clients the best possible experience, Lopez simply supports the concierge team. Over the years, they have successfully fielded some impressive demands. The most impressive was when guests asked for a helicopter to take them to dinner in the Bay Area.
"That was a 'wow' moment for me, when our concierge team was able to pull it off," Lopez admits.
"I need my team to be able to stay in the moment and think on their feet."
Lopez enjoys a few perks as a Four Seasons employee, including earning complimentary nights at other properties. "I've been able to explore some parts of the world and stay at resorts that I probably wouldn't be able to stay at otherwise if I wasn't part of the organization," says Lopez, who calls it his favorite benefit.
The hotel often hosts VIP groups like major league sports teams or Fortune 100 business groups. What sets it apart is personal service, like remembering a frequent guest's favorite drink and having it on-hand when the guest arrives. At the same time, the hotel takes measures to remain team-agnostic when the city is hosting events like the World Series or the Super Bowl.
"You have all these different teams in the city and your guests will be rooting for different teams, so you fly a variety of flags to make sure everyone is represented," Lopez says.
Because the labor market in San Francisco is competitive, Lopez spends a lot of his time recruiting new talent and making sure he has a full roster of potential employees. The hotel boasts 400 regular employees, with 300-400 part-time workers on call for events like banquets—meaning Lopez is responsible for staffing a large labor force.
"Sometimes you have to go a little outside what you would normally do to recruit," Lopez admits. "Unemployment is low, so it is tough for employers to find the talent that they are looking for right now."
When recruiting, Lopez looks for people with a "passion for service." A key aspect of the Four Seasons brand is treating every guest—no matter how big or small—like a celebrity.
"While there might be minor things that might be different from a guest to a celebrity, like taking privacy measures, the service is going to be very similar if not the same," Lopez says. "We think of every guest as high-profile."
To recruit the right kind of talent, Lopez places a lot of importance on the interview process.
"I need my team to be able to stay in the moment and can think on their feet," Lopez says. He looks for people with candid replies because it shows that they can, "take any question and apply their experience and say what they really believe."
Top Attractions Within Walking Distance of Four Seasons San Francisco
Maiden Lane: 4-minute walk
San Francisco Museum of Modern Art: 5-minute walk
Yerba Buena Gardens: 6-minute walk
Union Square: 7-minute walk
Old St. Mary's Cathedral: 11-minute walk
Portsmouth Square: 14-minute walk