When Dr. Jerry Porras was growing up in El Paso, Texas, in the 1950s, he saw few economic opportunities for Mexican Americans. The son of Mexican Americans of modest means, Porras decided that he would have to venture beyond the predominately Latino border city to realize his dreams.
After earning his undergraduate engineering degree and a stint in the US Army, Porras began working for General Electric as an engineer. Aspiring to take on a leadership role in the company, Porras enrolled in Cornell University's MBA program. One of his classes—a course on organizational behavior—had a profound impact, eventually leading Porras to an academic career focused on researching planned organizational change.
Porras's academic work includes an in-depth study of what made a set of long-lasting Fortune 500 companies successful over the decades. A resulting book, coauthored with Jim Collins, called Built to Last: Successful Habits of Visionary Companies, has been widely hailed for its insights, particularly its revelation that visionary companies share two particular characteristics: an enduring core ideology and a willingness to embrace change in both market conditions and corporate strategies.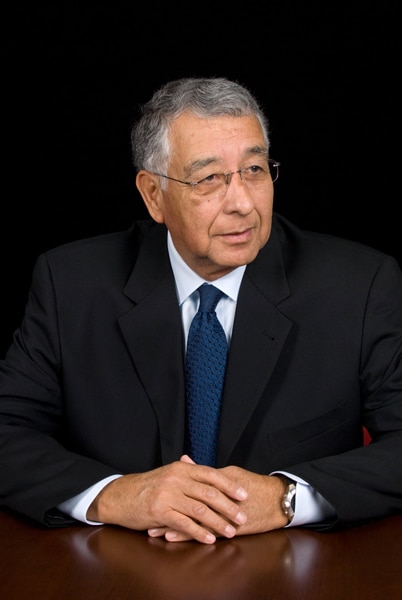 Today, as codirector of the Stanford Latino Entrepreneurship Initiative and the Lane professor of organization behavior and change, emeritus at Stanford University, Porras is using his expertise to bolster Latino entrepreneurship.
For decades, Porras has witnessed a lack of substantial economic progress in the US Latino community. He is determined to change that fact, and as he sees it, the most effective way to achieve his goal is to work within the economic system. "The linchpins in this society are corporations," Porras explains. "The way they operate and deal with employees influences society as a whole." He set out to help companies perform better and to encourage them to foster more opportunities for disadvantaged communities.
Even after stepping back and becoming a professor emeritus, Porras has continued to advance this mission. In 2012, after he had an impromptu meeting with several Stanford Business School alumni at an annual awards banquet for Latino graduates, the nonprofit Latino Business Action Network (LBAN) was born—with a focus on Latino entrepreneurship.
"The idea was to strengthen the Latino community by helping Latino entrepreneurs grow their businesses," Porras says. "We want to make the country stronger by strengthening the Latino community."
Latinos are the fastest-growing ethnic group in the US, Porras points out. In fact, over the last decade and a half, the US Latino community has formed about one million new companies every five years. However, 97 percent of those businesses never make it to the $1 million level.
The dearth of large Latino businesses means that US Latino communities don't benefit from entrepreneurship as much as other communities. When Latino businesses grow big, they hire more Latinos, do more business with other Latino-owned companies, and as a result, the whole community benefits. So, Porras and his colleagues concluded that if LBAN could set up a collaboration with Stanford and together create a research and education initiative that was able to help businesses grow, it would have a ripple economic effect throughout the Latino community and beyond. Thus, the Stanford Latino Entrepreneurship Initiative (SLEI) came into being.
"We want to make the country stronger by strengthening the Latino community."
According to Porras, the main factors inhibiting the broader success of Latino businesses are twofold: limited access to capital and a lack of understanding on how to scale up ventures. "Historically, most Latino entrepreneurs financed their businesses internally," Porras says, explaining that this strategy limits growth. "They need to be positioned to obtain bank loans and be attractive to venture capitalists and angel investors."
SLEI devised an educational strategy and began working with companies that were already taking in at least $1 million in revenue annually. Many of these firms, having established a successful track record, possessed the wherewithal to grow to become $1 billion companies, Porras says.
The SLEI Scaling Program, a collaboration between the Stanford Business School and LBAN, was able to help these companies take the next steps to realize their full potential: they developed formal and informal initiatives, including an online educational program, a mentoring program and ongoing networking opportunities for the business owners.
Sixteen of the program's participants secured capital from a Scaling Program's alumnus as the result of a contact from the LBAN network. Many other program participants have received funding via networking as well as technical assistance from LBAN staff, program instructors, and advisors. Moreover, in 2020, 82 percent of the Scaling Program's participants and alumni were able to secure Paycheck Protection Program loans to help navigate through the COVID-19 pandemic.
Participants of the SLEI Scaling Program—numbering about 150 per year—maintain ties to each other through an online forum, coordinated by LBAN, called Mobilize. Per Porras, there are now over 550 alumni interacting with and helping each other boost their businesses on that forum.
And, just as Porras envisioned, these efforts are making an impact on the larger community. Early on in the pandemic, one Scaling Program alumnus had a surplus of protective clothing and masks that he wanted to ship to hard-hit East Coast cities. As soon as he made this opportunity known on the Mobilize forum, the owner of a trucking company stepped up to make the shipment.
A few words on Dr. Jerry Porras's impact:
"Jerry Ignacio Porras. Some call him professor, some author. I call him 'sir.' Jerry commands respect wherever he goes because he has influenced many in the business world with the idea of creating the appropriate vision for their companies, as he laid out in his book Built to Last. Jerry is a long way from El Paso, where he grew up, yet he has touched many CEOs around the world—and still touches many corporate execs with his groundbreaking work.
"Still others (including myself) remember Jerry as a professor at the Stanford Graduate School of Business, where he was known for his work around organizational behavior (I barely passed). Luckily, I have had the privilege of continuing my relationship with him and helped cofound the Latino Business Action Network (LBAN), which is the chief collaborator with the Stanford Latino Entrepreneurship Initiative (SLEI). The work that LBAN has done with Stanford through SLEI is groundbreaking, and as part of the scaling program, we use the work from Jerry's book. LBAN and SLEI are a work of pride for Jerry because this is about ensuring that the Latino community is prepared and recognized for driving the US economy. I too have found tremendous satisfaction with this program and am now at a point where I can call 'Sir' Jerry my friend, my amigo. He exudes passion, intelligence, and lots of humility. When someone talks about a true caballero, a true gentleman, one only has to point to Jerry. ¡Que viva Jerry, y que viva El Paso!"
—Victor Arias, Managing Partner and Director, Diversified Search Group
"Dr. Porras is a truly remarkable leader. He saw the challenges that Latino entrepreneurs were facing and understood the importance of a vibrant entrepreneurial environment both for the community and for the country. But Jerry saw these challenges as an opportunity to bring his long experience in starting and building great companies to overcome those challenges. Through rigorous research, and by building a network of entrepreneurs, he has dramatically accelerated the creation of a new generation of highly successful Latino entrepreneurs."
—John Hennessy, Professor and President Emeritus, Stanford University