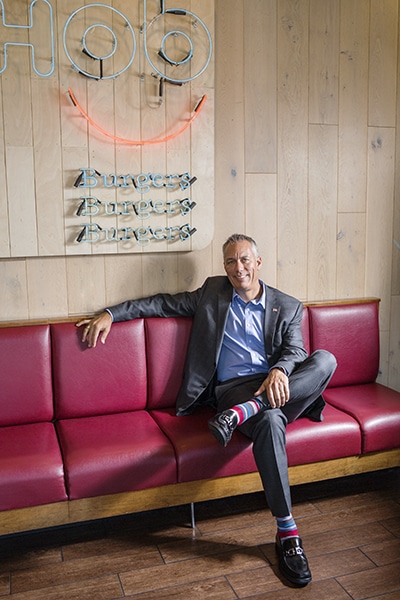 When Darren Rebelez applied for his first high school job thirty-five years ago—as a dishwasher in a restaurant at the San Diego Zoo—he had little reason to suspect that the experience would lead him to one day become the president of IHOP. Today, he is charting a new course for the leading all-day breakfast destination and family dining brand that has close to 1,800 restaurants across the United States and around the world.
Now, decades later, what he learned then still informs many of his decisions today as well as his approach to leadership. "Ending up where I did, I learned the value of the frontline employees in the restaurants—particularly the dishwasher, which is the least-appreciated job until you don't have one," Rebelez says. "I've come to appreciate what everybody does to make this brand work."
In his role at IHOP—a fully franchised brand with more than three hundred individual owners and operators—Rebelez often shares his story so that others, regardless of position, know that anyone with an entrepreneurial spirit can build a business.
"Ability is what you're capable of doing. Motivation determines what you do. Attitude determines how well you do it," says Jay Crown, vice president of US  sales at Unilever. "Darren learned the value of the frontline employees in the restaurants, and he appreciates what everybody does to make the IHOP brand work. His loyalty to his franchisees and managers, working with them side by side to ensure success, has made IHOP a success today. It is a privilege to be a partner to a brand that is an American icon and to be a part of a growing and evolving brand."
For IHOP, having a diverse group of franchisees is a competitive advantage. Many of its franchisees started out working at IHOP as a cook, dishwasher, server, or manager before purchasing their own restaurant or following in the footsteps of a family member who is an owner. Although a handful of IHOP franchisees operate more than fifty restaurants, the majority own less than five restaurants.
"We focus on finding the best operators, and we know that when people have worked at an IHOP, no matter what their job, they have a passion for the business and understand the essence of the brand," Rebelez says. "That makes for great franchisees, and it's a benefit for us because we get to keep the identity of the brand intact."
That bootstrapping, entrepreneurial spirit is something Rebelez knows well. Growing up in San Diego, his grandfather opened a barber shop after having immigrated to the United States from Mexico. Perched on the ninth floor of a bank building, Rebelez watched his grandfather build a successful business from the ground up, applying grit and determination while also prioritizing customer service to create loyalty and build word-of-mouth referrals.
Rebelez was also the first in his family to go to college, studying at West Point and graduating as an officer before serving four years in the Army, including a deployment for the Gulf War. Returning to civilian life, he found himself back the restaurant world, landing a job as a restaurant manager at a KFC in San Antonio, Texas. From there, he rose up the corporate ranks with successive promotions, landing the role of executive vice president and chief operating officer at 7-Eleven. When the opportunity to lead IHOP presented itself a little more than three years ago, he jumped at the chance. "It's an iconic American brand, and it's all centered around taking care of families and family dining, which is important to me," Rebelez says. "IHOP is a place that welcomes everybody, people from all walks of life, of all ages. We're very much a 'come as you are' kind of place, even if you want to show up in your pajamas."
Some of his early challenges were working to modernize a brand that's been around for six decades without abandoning what people love most about IHOP. The changes, all of which have been grounded in what the IHOP guest wants, include everything from updating the IHOP logo to turn the frown into a smile to undertaking an extensive remodel program that, in just three years, will contemporize more than one thousand IHOP restaurants across the United States.
"Darren's passion for the iconic IHOP brand fuels our drive to realize his vision for the future of IHOP and its customer experience," says Donna Cobb, executive director of enterprise marketing at Comcast Business.
On the culinary side, the organization has undergone a strategic menu evolution, focusing on adding quality ingredients and distinctive dishes that lean into all-day breakfast. This evolution also led to lunch and dinner options, which resulted in the introduction of seven Ultimate Steakburgers in 2018. And although innovation will always be a driving force at IHOP, the one thing that will never change is its world-famous buttermilk pancakes, a guest favorite.
As Rebelez and his team worked to strengthen the brand, they relied on research and guest insights to inform every recommendation and decision. "We made a rule among ourselves and our franchisees: the brand gets one vote on any decision, and the franchisee gets one vote, but the guest gets three votes," Rebelez says. Those guest insights are then paired with what franchisees hear and see in their restaurants every day.
"Franchisees give us valuable input on everything we do and provide us with practical solutions to challenges facing the brand," Rebelez says. "Our smaller operators are often in touch with what's going on in their restaurants, with their frequent guests, and in their communities, which offers critical insights for how we go forward." Combining that information with strategic contributions from larger franchisees, he says, helps IHOP create a more holistic approach to its business and to smartly scale initiatives across the entire system. While there are countless examples of the brand engaging franchisees to test new ideas, one of the most successful was the launch of IHOP 'N GO, the brand's to-go platform.
"Some of our franchisees were eager to ramp up carry out and delivery because they knew that our guests wanted the convenience of enjoying IHOP food at home," Rebelez says. "But, before we could roll out to-go or delivery in a big way, we had to learn what worked, what didn't, and what was missing for our business and our restaurants." Ultimately, the learnings gathered from franchisees who were testing to-go helped shape a robust program that now includes proprietary packaging designed around IHOP pancakes, online ordering, a mobile app, and national contracts with leading delivery companies like DoorDash, GrubHub, and more.
All these efforts add to one shared goal for IHOP and its franchisees: growth for years to come. To succeed, it takes partnership. In addition to seeking out diverse opinions from its operators, the IHOP team works closely with its Franchise Leadership Council, a group of about fifteen franchisees who are elected by their peers, to make sure decisions are in everyone's best interest.
"At IHOP, we lead through influence, and that influence is built by establishing trust with the people you're trying to lead, particularly in the franchise business," Rebelez says. "Because I've worked in every level of a restaurant, I'm empathetic to what franchisees are going through, what restaurant managers are going through, and what everyone up to and including the dishwasher is going through. I think this allows me to engage with the people who are a part of the IHOP family more authentically."
For Rebelez, having the opportunity to lead people and to lead them at a brand he values and respects is what motivates him. "It's a real privilege to lead a brand that is truly an American icon and part of so many peoples' lives," Rebelez says. "I'm excited to be part of growing and evolving this brand for its next sixty years and leaving something for the next generation."
---
DataSource helps you get more value from the printed materials used to do business every day.
This could mean finding savings hidden across departments, enhancing quality and accelerating the speed-to-market, or managing the entire function from start to finish allowing your focus to shift back to the core business.
---
Direct Pack Inc. congratulates Darren M. Rebelez, President of IHOP at DineEquity Inc. on this well-deserved recognition. We're celebrating IHOP's new, innovative to-go packaging, resulting from great collaboration and partnership between our companies.
---
At Unilever Food Solutions, we are proud to promote Fair Kitchens and help create a movement of chefs supporting chefs, to change kitchen culture for the better. We make ingredients that inspire chefs all over the world to create dishes they love that keep guests coming back. We've been in food since the 1880s and are home to some of the world's favorite brands including Hellmann's, Best Foods, Lipton and Knorr.