Prior to being CFO at TPC Group, Daniel Valenzuela was responsible for product lines with both important customers and important contracts that needed to be renegotiated. He has successfully navigated those high-stakes situations using an approach that also mirrors his leadership style.
Whether it's dealing with customers, the people he works for, or the people who work for him, he tells it like it is, having seen the power transparency has on building relationships and driving results.
"I go into negotiations trying to connect with the person across the table from me, who has things they need to deliver on," Valenzuela says. "If they're good people, I find they are usually reasonable. They might not like something, but they'll understand that a certain adjustment is required. If I get to know what's driving them and how I can help them get a win that I could live with, I can establish trust. To do that, I don't like to pretend I'm something I'm not. I like to be honest and find middle ground that works for both of us."
That approach has helped Valenzuela seal the deal on contracts worth millions of dollars and spearhead initiatives aiming to improve the petrochemical manufacturing company and its industry.
Today, he's helping kick off some cost control efforts to analyze how the company is spending its money and how to reduce cost as the industry grapples with inflation and its consequences. He and his colleagues are also following up on a work/life balance study that the company conducted several years ago to inquire about employee preferences.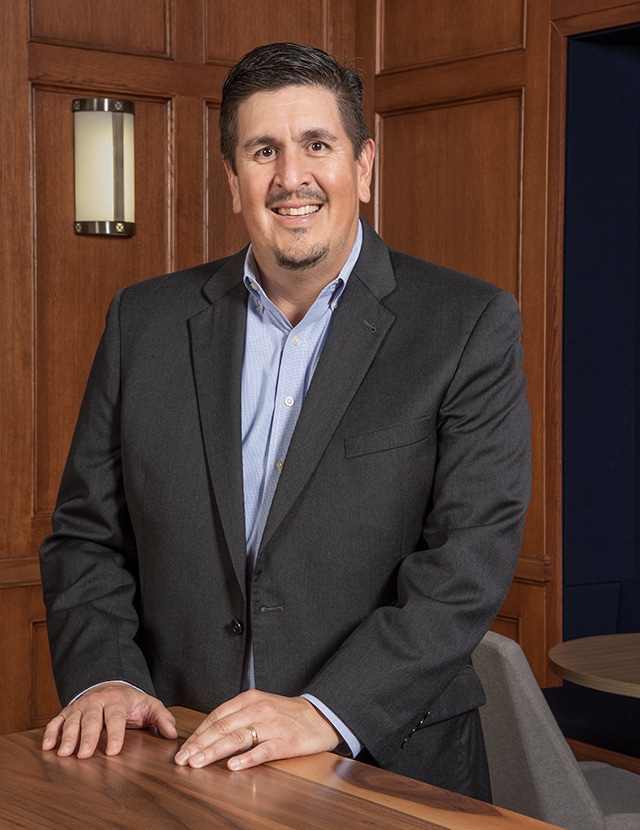 As a leader, Valenzuela prides himself on being a mentor and an advocate for those on his team. Coaching children's sports and watching his kids develop on their teams reinforces the advice he often gives at work.
"I've seen my kids and other kids not understand why a coach isn't seeing them the way they see themselves. I've helped them understand that most coaches are good people and have to be honest if there's areas you need to work on for them to trust you on the team," Valenzuela says. "You have to understand what's keeping you from being what you want to be, have a defined process for getting those experiences and work hard at it. So, at work when I have people who don't know what to do next in their career, I challenge them to dream about what they want to be like and I ask, 'What are some experiences we can give you now?'"
He finds opportunities for his team members to expand their skills, showcase them to senior leaders, or to prepare themselves for their next role. "I really have a passion for giving them the opportunity to dream in terms of what they want to be and working backwards and saying, 'Okay, how can we start today?'" he says.
Valenzuela's father was a chemical engineer, and his mother was also in a technical field. The town he grew up in also was home to the site of a chemical company. From an early age, he knew he'd one day call the industry home. "Most people don't have a good feel for what they want to be when they grow up, but I was born into chemical engineering," he says.
Prior to joining TPC Group in 2011, Valenzuela was senior sales manager at JX Nippon Chemical Texas, business development analyst at INEOS Olefins and Polymers USA, and senior account manager at PPG Industries. In those roles, he learned the value of building connections, being visible to leaders, answering the call for important assignments, and showing up.
Those career insights and others have inspired Valenzuela to prioritize offering advice to young Hispanic professionals who want to see success in their careers. Having experienced the unique challenges of managing a two-career family, he suggests couples have conversations about whose career will take the lead, whose will take the back seat, and why, especially when kids are in the equation.
He also advises young professionals not to limit themselves "because of a lack of vision."
"Try to talk to people above your career level and find out what's possible," he says. "I've met a lot of Hispanics who are the first to graduate college and feel like they don't belong. My guidance is to trust in yourself, know you do belong, and try to find people who can help you understand what is possible."
---
FTI Consulting Inc. is a global business advisory firm dedicated to helping organizations manage change, mitigate risk and resolve disputes: financial, legal, operational, political and regulatory, reputational, and transactional. With more than 7,700 employees located in 31 countries, FTI Consulting professionals work closely with clients to anticipate, illuminate and overcome complex business challenges and make the most of opportunities. 
For more information on how we can help your organization, visit our website: fticonsulting.com and connect with us on Twitter, Facebook and LinkedIn.