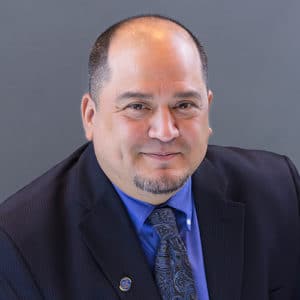 Before coming to CHI Baylor St. Luke's Health as part of its full-time facilities management staff, Richard Martinez was an electrician with Fisk Electric for nearly twenty years. That required him to constantly move from one job to the next with what he describes as "minimal excitement or personal connection" to those projects.
That changed in 2001 after Tropical Storm Allison blew through Houston. Critical parts of St. Luke's infrastructure were under seven feet of water. Martinez was then part of a team of subcontracted tradesmen who regularly worked at the hospital. They immediately began a seven-day, round-the-clock marathon to procure and install temporary generators and wiring to keep St. Luke's clinical operations up and running.
Once that was completed, they were redirected to a weeks-long effort to pump out the water, dry out and replace components, install flood-mitigation systems and completely rewire the building's forty-seven-year-old electrical systems.
A critical part of the massive cleanup and repair phase was ongoing communication and collaboration with the hospital's clinical staff. It included nurse managers showing workers the patients they were caring for, which put a personal face on the work. Martinez could picture his own family members being among those patients.
"I realized that there were patients directly depending on us to finish as quickly as possible and without interrupting their care," he explains. "That made me feel like I was a part of something larger than just the job at hand. Ever since, I have had an incredible bond with the hospital and with facilities management."
Martinez eventually rose to the level of project superintendent with Fisk, and in 2005, moved to St. Luke's as manager of facilities management. He feels fortunate to have been able to make a permanent transition into the healthcare environment, where he is invigorated by new challenges on a daily basis.
One of those challenges has been adapting operations to budget reductions that are prevalent in healthcare systems across the country. In Martinez's department, they've seen a recent decrease of nearly 30 percent in the facilities management team, which has pushed the department to become more flexible and agile. For example, craftsmen were previously hired with discrete specialized trade skills, but now positions are categorized as "Maintenance Technician 1, 2, or 3," and combine multiple areas of expertise.
"Our job descriptions show that we want staff to be versatile. So, when there's an emergency, even though we have fewer people, we have a deeper pool of talent to call on. We're better positioned to maintain all safety levels and to deliver uninterrupted patient care," Martinez says.
To facilitate that kind of bench strength, Martinez pays very close attention to individuals' abilities and potential. He works hard to ensure that each person is in the right job and positioned to learn new skills to help them train upward. In many cases, this requires making personal connections to gain an accurate sense of an employee's abilities, attitude and goals.
"You learn so much about someone by treating them as a colleague, not 'just an employee.' This practice produces results that are good for the organization as a whole," Martinez points out.
That was the case when one employee needed extended personal time off. In that instance, Martinez joined in on an update call with the employee's supervisor to remind him that "everyone has personal issues that they need to deal with  from time to time." That staff member has demonstrated loyalty, high performance, and an embodiment of company culture since then.
"Our job descriptions show that we want staff to be versatile. So, when there's an emergency, even though we have fewer people, we have a deeper pool of talent to call on."
Richard Martinez
As leader of the facilities department, Martinez makes sure that his staff has numerous opportunities to grow in their careers, just as he did. In addition to service contractors providing on-site presentations and instruction on their products and systems, the department budgets annually for additional staff training and certification separate from the hospital's college tuition reimbursement. Funds are used by individuals to access online courses from providers such as the American Society for Healthcare Engineering and the Building Owners Management Institute.
Such ongoing training keeps staff engaged, adds to their expertise, and even helps motivate colleagues to pursue their own continued professional development.
In addition to drawing inspiration and support from his wife and three children, Martinez notes the importance of his past mentors. Their stories about experiences at major hospitals provided models for his own skill development and career path.
To give back, Martinez is president of the Houston Area Association for Hospital Engineers and a regional representative of the Texas Association of Hospital Facilities Management. Both organizations prioritize training, networking and providing strong foundations for those just getting started in Facilities Management. The organization is also offering five $1,000 scholarships as part of its 2017 outreach efforts.
Over time, Martinez has seen so many of his employees advance professionally. "I get a great sense of pride seeing them grow, especially in today's facilities environment, which is much more complex than when I started," he says. "There's a lot of satisfaction from knowing I was able to help."