https://hispanicexecutive.com/pete-delgado-salinas-valley-memorial-healthcare-system/
There may not be another American health system more woven into its community than Cedars-Sinai. Since 1961, the year when Cedars of Lebanon Hospital merged with Mount Sinai Hospital, Cedars-Sinai has served as a hub for cutting-edge medicine, research, and education for the city of Los Angeles, an ever-evolving, ever-complex metropolis that demands innovation from its institutions.
So, the fact that the two highest-ranking Latinos at Cedars-Sinai also happen to be native Angelenos seems more than a bit smart and purposeful. Who better to lead a foundational LA medical center than those who grew up living and breathing LA?
Senior Vice President and Chief Human Resources Officer Andrew "Andy" Ortiz and Senior Vice President of Advancement and Chief Advancement Officer Arthur "Art" Ochoa have spent the bulk of their lives on the West Coast, and via Cedars-Sinai each has discovered an outlet to showcase their commitment to Los Angeles by serving its extensive patient population on a grand scale and helping the city's most vulnerable find the medical help they often desperately need.
Better Understanding Breeds Better Outcomes
Ochoa grew up in Eastside Los Angeles, first experiencing very little interaction with Cedars-Sinai before eventually coming to grasp the hospital's reach and reputation. "I first interacted with the organization when I was able to represent Cedars-Sinai in some transactional matters," Ochoa, a Yale-educated lawyer, explains. "It was then that I came to really understand what a truly special place this is, especially for someone who has grown up in Southern California."
He explains that coming up and living in LA provided him with rewarding context from which he could pull for his role—something a transplant would not have been privy to. "I think being from here provides a deep and long understanding of this area," says Ochoa, who today oversees marketing and communications, community engagement, and philanthropy for Cedars-Sinai. "That said, this is a dynamic city and there are always changes. You can't get complacent. Even if you think you know a city or a region, you need to keep growing, learning, and expanding."
Similarly, being raised in Los Angeles provided Andy Ortiz with plenty of source material. "As a native Angeleno, I am accustomed to living and working in a diverse environment," the CHRO says. "My role provides me the opportunity to engage with all levels, all ages, all religions, all gender identities, and all cultural and religious backgrounds." Ortiz recognizes the unique opportunity he was afforded to grow up in the multicultural melting pot of Los Angeles—and, to a greater extent, the United States.
He underlines that the patient population at Cedars-Sinai isn't the only group he's equipped to engage with. "I feel a great sense of responsibility to listen to our diverse staff so I can better understand who they are, what they need, and how our organization can best serve them and their families," Ortiz says. "I approach my role with a sense of service to our employee community. The more I can support our employees, the greater the levels of their engagement—which leads to greater patient outcomes."
A Tie That Binds a Community
The ways in which Cedars-Sinai reaches out to the wider Los Angeles area are as numerous as the people it represents. The organization's research institution brings its discoveries to patients—from lab bench to bedside—in ways that might prove more challenging for other health organizations. Cedars-Sinai also has over five hundred residents and fellows at any given period of time, training the next generation of physicians and nurses in diverse communities.
By the Numbers
Established: 1902
Licensed Beds: 886
Volunteers: 3,500+
Volunteer Programs: 41
Financial contributions to community in 2017: $797 million
Programs benefitted: 5,500
Health educational encounters for underserved communities: 200,000
It's in Cedars-Sinai's community outreach, however, that Ortiz and Ochoa highlight the constant efforts to better the lives and circumstances of LA's most underrepresented communities. "We provide immunizations, health screenings, and mobile medical clinics to serve kids and their families," Ochoa explains. "In partnership with the Los Angeles Unified School District, we have developed a program that takes the people who are responsible for buying food in the household to their local grocery stores. Then, using the language they're most comfortable conversing in, we show them how to make healthier eating choices given the parameters of their food budget."
Cedars-Sinai also provides financial support for clinics that serve disadvantaged populations, enabling them to attract and retain better staff, innovate and grow, and serve the wide needs of their patients. One patient population in particular has received more attention since Ortiz's arrival. "I have a passion for service for our military veterans," Ortiz explains. "When I joined Cedars-Sinai, I committed to an investment in building a strong network of veterans as a pipeline for key roles. I am proud to say we have built strong relationships with veteran organizations, hired many vets and their spouses, and increased the engagement of our military vets who we already employ."
The same attention has been focused on the homeless population of Los Angeles. "We're in the middle of a multiyear effort working to address homelessness in Los Angeles," Ochoa says. The well-known Skid Row section of Los Angeles has ballooned due to a worldwide pandemic and global recession. More than ever, the city's homeless need medical supervision as well as care and consideration from the city they call home.
In response to the aforementioned COVID-19 crisis, Cedars offered millions in grants to community-based organizations to help them better equip themselves during the pandemic.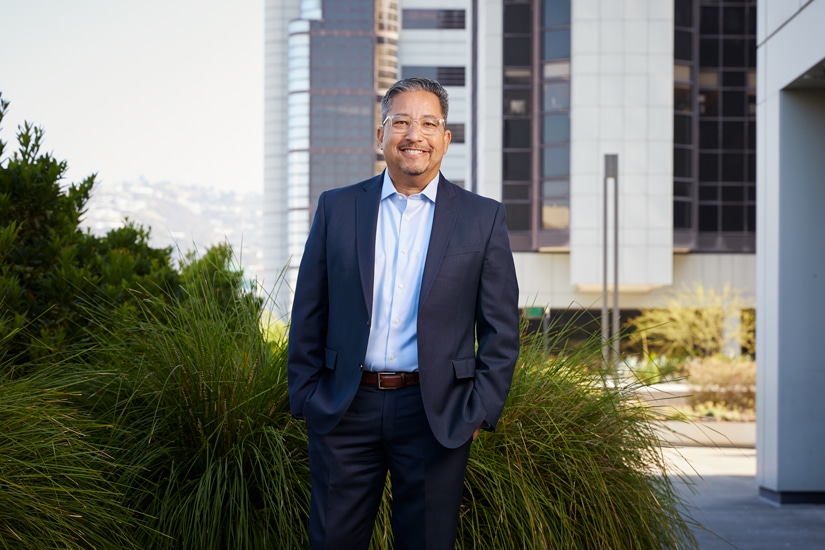 The Value of Visibility
For the two SVPs, the history of Cedars-Sinai plays an important role, not just in how far the city has come but in how it approaches the future. "Cedars-Sinai was founded 118 years ago at a time when there was great discrimination against Jewish people and Jewish physicians who wanted to practice medicine," Ortiz says. "From that history, our values of respect, integrity, and diversity were born—and they are alive and well today."
"Our reaching this level is really indicative of Cedar-Sinai's commitment to having a diverse workforce at all levels," Ochoa says. "When I was promoted to this job, I received a lot of congratulations, and many of those were from Latinos whom I didn't know personally. They just wanted me to know it meant a lot to see someone like me in a senior position. I think Andy would agree that we feel entrusted with that responsibility, and that means a lot."
---
Related Links
For Edwin Millan and Laura Morales Garcia, Hard Work Remains