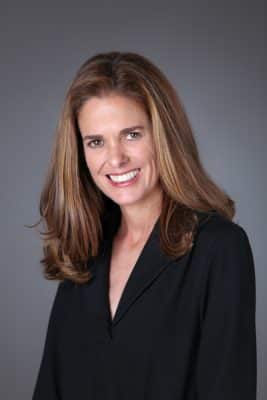 Carnival Corp., the world's largest cruise company, is known for fostering thoughtful and culturally rich itineraries in Asia, Europe, and the Caribbean. Now, it is offering an historic voyage from Miami to Cuba.
Among the people who make it happen is the lady behind the legal wheel, Martha de Zayas, the assistant general counsel for the cruise giant. De Zayas was born in New Jersey to Cuban parents, but considers Miami her true home.
"My parents and I moved there in 1969," she says. "It was in Miami where I grew up, went to undergrad, graduate school. I am a Miami girl."
Though she is now a successful corporate attorney, De Zayas admits that getting into law was never her childhood dream. "I wanted to be a doctor until I took organic chemistry in college," she says. "I began to consider law school after I got an opportunity to volunteer for a federal judge during the Noriega trial. I spent an entire summer following the trial and began to think that pursuing a legal career might be fascinating."
She worked for several law firms until the opportunity to become part of the in-house Carnival team arose.
"And I am still here," she says enthusiastically. "It all started when I responded to a newspaper ad. Arnaldo Perez had just been made general counsel and was creating new positions at Carnival. A colleague at the firm where I was working at the time and I applied at the same time. Both of us were hired, and more than twenty years later, we are still with the company." There are various reasons for this loyalty, De Zayas says.
"It is great to work for a company that helps people to create lifetime memories," she said. "People dream of a vacation, plan it, save for it, and we make that dream come true. In addition to that, Carnival offers a supportive environment to all of us. It's a great place to work."
Arnaldo Perez, known as "Arnie" around the office, is still Carnival's general counsel and has been a role model to De Zayas and many others in the company.
"Arnie came to the United States from Cuba when he was very young," De Zayas says. "He is one of the most intelligent human beings I've ever met: a very kind, ethical, and honorable man. He has played a key role in almost every new development in Carnival for the last twenty years."
A Sea of Opportunity
The cruise industry is one that is steadily growing, and De Zayas sees it as a largely untapped market, both domestically and internationally.
"It has the potential to become huge," she said. "Right now, there is significant growth potential in Asia, particularly in the Chinese market. We have several ships operating under two brands in China at the moment—Costa and Princess— plus two additional ones, Carnival and AIDA, our German cruise line, scheduled to begin cruises there in the coming few years."
De Zayas's responsibilities include dealing with international law, US law, maritime laws, hotel and casino operations, finances, acquisitions, and much more. It's never boring, she says, and it gets even more exciting when she has the chance to experience "the end product."
"I am going on a cruise this year on Carnival Vista with my kids, and it will be amazing to tell them, 'Look, I had a role in negotiating the contract for this, I helped make this happen.' It is a very tangible result," she says.
The Carnival Vista—which is part of the Carnival Cruise Line fleet, the largest of Carnival's brands—sailed its maiden voyage on May 1, 2016. A number of additional ships for several of the company's brands are currently being built, De Zayas says.
"During my tenure here, I have seen the company expand immensely," she says. "I look forward to many more years of growth and satisfaction."
Casting Off for Cuba 
Among these new expansions is the recent cruise to Cuba in May 2016. Carnival's Fathom brand is the first US cruise ship company to sail from Miami to Havana in more than fifty years. The itinerary includes visits to the cities of Cienfuegos and Santiago de Cuba as well. Fathom is allowed to sail to Cuba under current people-to-people travel guidelines, De Zayas explains.
"[Fathom] is not your typical cruise  itinerary to look at the architecture or go to the beaches, but rather, shoreside activities are focused on cultural exchange," she says.
Fathom operates social impact travel journeys, including cruises to the Dominican Republic where passengers participate in humanitarian projects.
"[Fathom] is not your typical cruise itinerary to look at the architecture or go to the beaches, but rather, shoreside activities are focused on cultural exchange."
The legal team was also able to put the company on equal footing with the airlines in regard to the rights of Cuban-born passengers to sail to Cuba.
"We were very active in this issue, which resulted in Cuba changing its policies about allowing Cubans to return to the island by ship," she says.
Fathom's might just be the next itinerary on De Zayas's list.
"I would love to go and explore my parents' country and see all these places I've heard about all my life," she says.  
---
A través de los años
Martha de Zayas, who has been with Carnival Corp. for over two decades, provides an overview of Carnival milestones during her tenure
1998
Acquisition of Cunard Line. "This is a legendary cruise line, known for great ships like the Queen Elizabeth and the Queen Victoria. Its operations were based in Miami for several years, though they have now moved primarily to the United Kingdom."
2003
Acquisition of Princess Cruises. "It was exciting to close that deal. Our team worked hard for it."
2004
Building of the Queen Mary II. "It was the first ocean liner to be built for Cunard since 1969. It was christened by Queen Elizabeth II and at that point was the world's largest cruise ship."
2011
Carnival reached its 100th ship milestone. "It was achieved both through the acquisition of other companies and Carnival's own ship-building projects."
2015
Carnival entered into an agreement with the US Department of Justice related to shipboard accessibility for guests with disabilities.
May 2016
The MV Adonia docked in Havana. It was the first US cruise ship to arrive in Cuba in fifty years. "Arnaldo Perez, Carnival's general counsel, was chosen to be the first passenger to disembark."
---
Around the world with carnival
Carnival Corp.'s portfolio includes the world's most widely recognized cruise lines—10 brands to serve every segment globally.
Carnival corp. brands
Carnival Cruise Line, 25 ships
Princess Cruises, 18 ships
Holland America Line, 14 ships
Seabourn, 5 ships
Cunard, 3 ships 
AIDA cruises ,11 ships
Costa Cruises, 15 ships
P&O Cruises (UK), 8 ships
P&O Cruises (Australia), 5 ships
Fathom