Growing up in a large, yet tightly knit family, brothers Gabriel and Christopher Hernandez were raised with a strong work ethic and an emphasis on education. Attending suburban Topeka, Kansas, public schools with a very low Latino student population, the two shared a constant desire to strive for more. Today, they recognize a shared purpose, setting an example for the next generation of Latinos, through mentoring programs in the Kansas City area as well as in their respective workplaces.
Though Chris and Gabe—as family and friends call them—lead busy professional lives, they've managed to stay close. Despite following completely different paths through their studies and careers, both are currently settled in Kansas City.
"Family has always been important to my brother and me," Gabe says. "Not surprisingly, Chris and I are in Kansas City and live five minutes from each other. It is a unique situation all in all. I am certainly happy with the way it has turned out."
The pair was exposed at a young age to a high standard of hard work set by their grandparents on both sides, as well as their parents.
Their maternal grandfather immigrated to the US from Mexico to work on the railroad, and their paternal grandparents, who were born in the US, worked as seasonal farm laborers. Both of the boys' parents worked full-time but made sure to be involved in Chris and Gabe's studies, pushing them to excel.
"My parents were always pushing me: 'Get your homework done; get good grades,'" Chris recalls. "In sports, [they'd say], 'Do well; practice a lot.' I think it helped to have such a strong support network around us. It was almost like we had four parents when you include our grandparents. Actually, my brother Gabe is eight years older, so for me it was like having a fifth parent!"
Both Gabe and Chris were interested in science and math at a young age. Gabe especially took a great interest in his father's work as an electric distribution supervisor for the local utility company.
"By being part of an organization that drives our industry, trying to capitalize on the latest technologies available to us today, we dedicate ourselves to making a difference."
"I had an early exposure to learning about electricity and really understanding how critical it was for all of us in our daily lives," Gabe says. "With my father working at the utility, I was given an avenue to talk with engineers, and I was really inspired. That's kind of how the stars aligned, and I pursued engineering as a career."
Chris' path in engineering came from a strong interest in business. Though he majored in electrical engineering at Kansas State University, he realized early in his career that some of his strengths were geared more toward the strategy and leadership side and began to use his engineering skills in more of a business environment, particularly on the operations side.
"Even when I was an engineer, I was still involved with the business side of things, and that's the road I took," Chris says. "When I went back to grad school at Penn State for my MBA, I ended up focusing on supply chain management and realized that 40 percent of my classmates were engineers by trade as well." There would be plenty of opportunity for someone with his unique skill set.
Gabe Hernandez attended Kansas State University eight years before his brother Chris. He studied electrical engineering and put his degree immediately to work at civil engineering firm Burns & McDonnell, where he started as an assistant electrical engineer and has held various titles over his nineteen-year tenure.
Over the last decade, Gabe moved into the company's project management group and worked heavily with the sales team, becoming more involved with business development efforts.
In the past three years, Gabe moved into an executive role with the company, first as director of substation projects, then into his current position as vice president of substation projects for the transmission and distribution group.
In this role, Gabe and his team assist customers with their "power delivery" initiatives. As part of the Burns & McDonnell leadership, Gabe helps clients ranging from investor-owned utilities to municipalities to privately-owned industrial companies achieve success.
"I've always been one to want to reach out and help people, and what better way than to try improving the quality of life? My company shares that philosophy, too," Gabe says, showing a clear passion for engineering. "That's what our power delivery industry is all about. We take for granted what it takes to 'keep the lights on.' By being part of an organization that drives our industry, trying to capitalize on the latest technologies available to us today, we dedicate ourselves to making a difference."
Gabe most enjoys keeping up with the latest in automation development: smart grid technologies and management systems. He explains that these technologies have especially helped customers become more knowledgeable, and therefore more efficient, in their use of electricity.
"Being a part of our customer success is rewarding for me and what Burns & McDonnell sets as its mission each and every day.  However, from a personal standpoint, seeing our employee-owners grow professionally in the ventures they pursue is the best," Gabe says.
Burns & McDonnell has had a strong handle on the domestic transmission and distribution industry for the past 25 years—so strong, in fact, that it has become the top transmission and distribution firm in North America. Now, it's looking to extend its reach internationally. Hernandez is looking at the firm's South American and European markets to see what opportunities exist there.
"While things have been going well for us domestically, we are now starting to look at the international front," he says. "That's been exciting for me, being able to participate in that development and seeing the journey unfold before my eyes."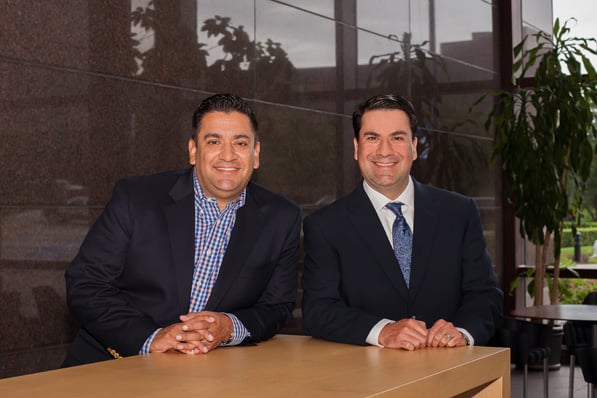 Chris Hernandez's career path led him to become chief operating officer with National Flood Service (NFS). NFS serves as a business process outsourcer for insurance carriers that handle flood insurance. It is the market leader in North America, serving most national carriers.
As COO, Chris leads the overall business and takes care of each and every client need. Given that Chris manages most of the employees in the company, he tries to maintain a flexible leadership style that's personable, but at the same time effective, at multiple levels within the organization. He is responsible for developing teams to perform well and create a winning culture.
When claims arise, his service team steps up for those who have suffered a catastrophic event like major flooding. The NFS intake centers handle those claims, and third-party adjusters help claimants rebuild their lives. Helping people who have just suffered a major loss is what motivates Chris, and his NFS team, every day.
While his brother followed a direct route to leadership, Chris moved around a lot. During his last year of college he had an internship with Hewlett Packard, where he noticed that those with the most interesting jobs had their MBAs.
Directly after college, Chris began work as an electrical engineer for Dow Chemical in New Orleans before deciding to pursue an MBA at Penn State University. During his grad studies, he interned with Intel in California. After obtaining his master's degree, he moved into banking in Kansas City, before finally landing in a role that combined all of his skill sets at National Flood Services.
The Hernandez brothers attest that they would not have been able to build such outstanding careers had their interests in science, technology, engineering, and math (STEM) not been nurtured. After seeing how far having STEM skill sets have gotten them, they both want to see those coming up after them take similar interests in those fields.
"I've really gotten to see just having that background and experience can open a lot of doors for you," Chris says. "[STEM education] is highly important, especially for Hispanics."
Gabe has seen the declining numbers when it comes to STEM education in the US—the United States is ranked 27th in the world in percentage of college graduates with an engineering degree today, compared to being ranked third in the world 40 years ago—and business has been affected.
"[The decline] has created a dilemma for companies like mine. It's harder to find experienced engineers," he says. "Even to the point where we've been forced to look on the international front to offer domestic support."
"That's something we need to turn around, and it's why I feel it's so important to invest time and financial resources into STEM programs, simply because it's our future and we need to do what we can to get back on track."
Along with getting the word out about the importance of STEM education, Gabe and Chris also take their roles as Latino leaders in their respective industries seriously. Gabe mentors students interested in engineering and is always passing along the message, sí se puede.
"I would like to continue developing and empowering those interested in following my lead. If there's a way I can inspire the next Latino leaders in my field to continue pursuing their dreams, continue to challenge themselves, then I feel I've done my job," he says. "Frankly, if I can do it, they can do it."
Chris, meanwhile, feels a responsibility on a couple of fronts. As a senior leader at NFS, which owns 60 percent of the flood insurance market, he knows it's up to him to establish strategic direction for the company and keep in a position of success. He also feels his position makes him an advocate for NFS' employee base, which is largely made up of hourly employees.
"A lot of times they need someone to make sure their voice is heard," Chris said. "To make sure they get what they need to be successful; not just in the world, but on their home fronts as well. I feel that a COO has a responsibility to leave an impact on a company and to be a champion for those employees who many times don't have one.  I've been fortunate to have my brother in my life being my champion. It's time to provide that same value to others."