As senior multicultural and digital marketing manager for the Boston Red Sox, Beatriz Lopez is tasked with keeping the world abreast of one of the most famous baseball teams in the world, particularly those in Spanish-speaking markets. She has also been able to harness the legacy of the Red Sox to spearhead community projects, improve living conditions, and lead donation drives for communities that could use a hand.
Learn how Lopez is introducing a whole new generation to one of the most storied franchises in sports while also making the world a better place.
What do you do today?
I manage the digital team responsible for all awareness and conversion media campaigns on online and offline media channels as well as lead planning and execution for digital campaigns, budget management, data and metrics analysis, and trend identification to inform future campaigns. I also provide oversight of strategic marketing collaboration with other departments and external teams to support organizational goals, including the audience expansion strategy to support digital marketing and ticket sales efforts.
Additionally, I lead Spanish-language and Latinx marketing efforts for the organization, including content creation and management of website, email, and social media channels. This involves collaborating with internal and external partners on the planning, promotion, and execution of cultural events and programming at Fenway Park.
What is your greatest career accomplishment to date?
My greatest career accomplishment to date has been the establishment and growth of Latinx cultural celebrations at Fenway Park. Being a part of and leading the team that is welcoming and celebrating thousands of Latinx community members to Fenway Park, some of which have never attended a game because they haven't felt welcome, has been incredible.
What is your greatest personal accomplishment to date?
I am proud to be a part of the Boston Red Sox's Lindos Sueños program, where we bring together a team of young kids from the US and a team of young kids from the Dominican Republic to work together on a community project and play baseball. We build a home for a family in El Mamon who desperately needs better living conditions and organize a donation day for the community where we donate toiletries, clothing, shoes, books, and more to the community at large.
How do you tackle problems and overcome challenges?
I like to talk through challenging topics with people close to me, and think about potential paths forward and try to lead with honesty and an open mind.
What do you do today to impact your community?
I volunteer with Chica Project as an in-school mentor. This program offers after-school programming for girls in middle school throughout public schools in Greater Boston, where they can explore various aspects of their identities and how they interplay within the environments and systems they are a part of. We engage participants in thoughtful activities and discussions that may not be available to them in everyday life.
Describe yourself in five words.
Passionate, caring, bold, loyal, thoughtful.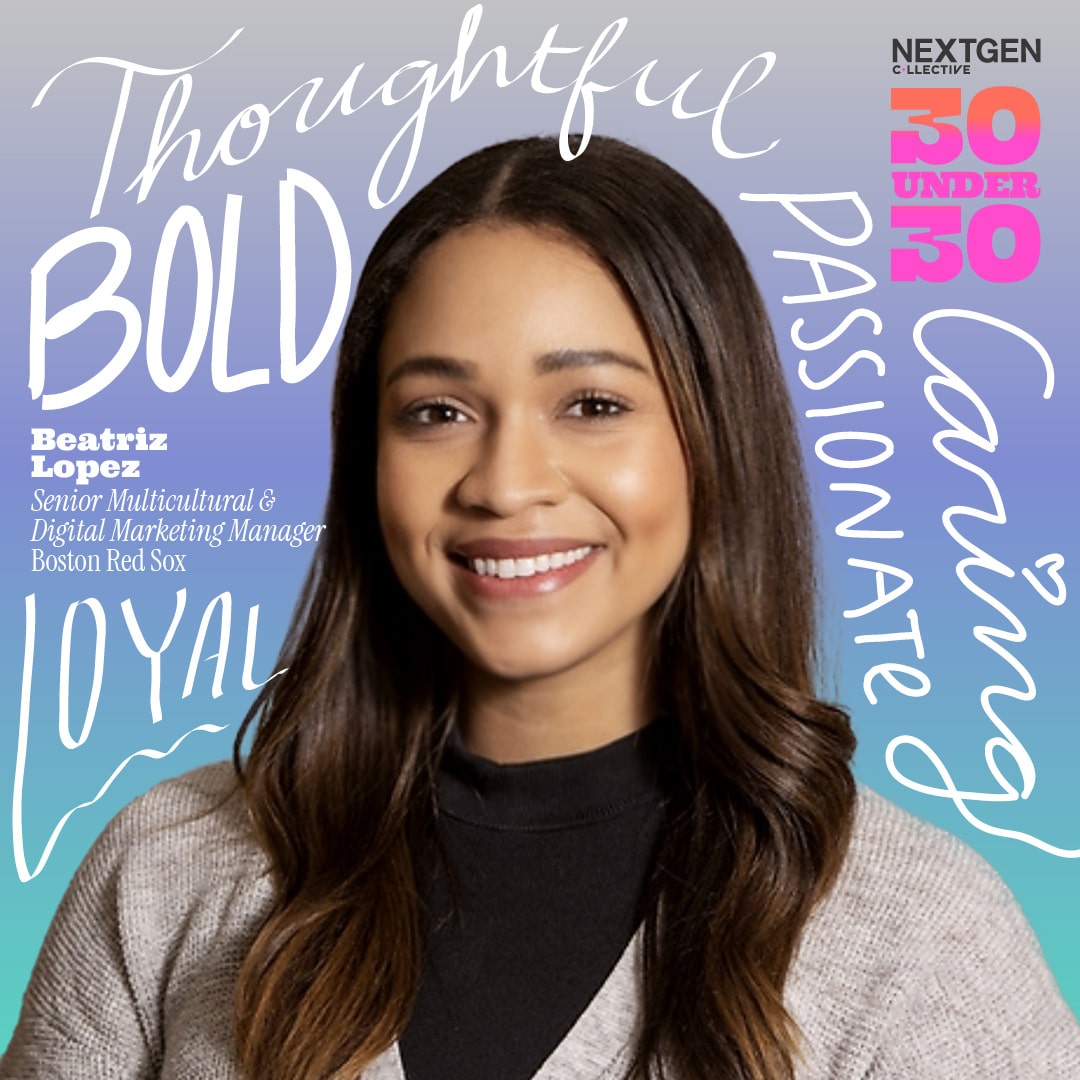 What are your future goals?
In the future, I hope to use my education and experience to start my own marketing business to support companies, non-profits, organizations, and people that are creating impact and giving back to those who need it most.
What is your favorite form of self-care?
Going to therapy and long walks while listening to my favorite music, where I can let my mind unwind.
What do you like to do for fun when you're not working?
Going on adventures with my fiancé and our two dogs – anything from a walk at the park to trips to new places. I also love cooking with my Mami.
What does making NextGen Collective's 30 Under 30 list mean to you?
It's a great honor. Being recognized in this way inspires me and makes me want to continue to do more for the Latinx community. It makes me proud of who I am, where I came from, and where I am going.
What is your personal theme song?
"Dancing Queen" by ABBA
What is your Latino background?
I am Dominican Puerto Rican American. I was born and raised in Miami, Florida. My mom is Dominican and came to the US when she was twenty-nine. My father was born in Puerto Rico and came to the US when he was fifteen.
Editor's note: This Q&A has been edited for clarity.