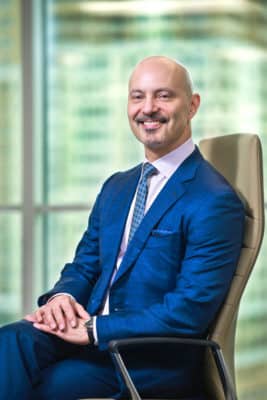 The most difficult thing is to begin—to depart from stillness and start to move. For that reason, Willy Gomez has made beginnings his bailiwick. As regional president of Florida for Woodforest National Bank, he's launched six offices in the past seven years, each profitable quicker than the last. The two most recent, Woodforest's Fort Lauderdale and Tampa Bay loan production offices, broke even in six months. He's earned himself a solid reputation as a pathfinder for new business ventures, and he says the success of his ventures depends on two conditions: First, the business communicates a specific value proposition. Second, it delivers reliably on that proposition.
"Entrepreneurs expect three things," Gomez explains. "They expect you to know their business, know their industry, and act entrepreneurially."
Gomez leads his team to meet and exceed those expectations for middle-market companies. He points out that the largest-scale companies already have access to the most effective financiers. Woodforest's mission is to make similarly excellent service available to the rest.
"In the middle market, this is easier said than done because that solution is different for every company," Gomez says. "At the entrepreneurial level, where these people are in the first and second generations of the business, this is what they need: learn the business fast, come up with the right solution, and execute. If somebody gives us a complex problem, that's where we get to shine."
When he began his tenure at Woodforest, Gomez prepared himself for three major challenges: First, the bank had little name recognition. Second, in relation to the first challenge, he expected difficulty acquiring clients and resources. And, to get results, he would need an excellent team, so his third expected challenge was recruiting and hiring. Just a year in, though, Woodforest has surprised him and the rest of the local business community. There's buzz among local bankers, and Gomez's phone rings with deal makers and job seekers alike.
"I want our peers in other banks to say, 'I hope one day I can work for them.' You want to be what people want to emulate. I can't ask for better validation or proof of concept."
Willy Gomez
"I'm not putting an ad in the newspaper," he says. "I'm not doing anything you would associate with branding, but this is branding at the very grassroots level. People are seeing how the strategy connects to their experience, and the experience is so differentiated that they talk about it."
In those first few years, a new office—known as a "de novo" in the banking industry—picks its market's low-hanging fruit. After it's all harvested, the next challenge is to begin taking clients away from competitors. That's the grind, Gomez says, and it's a difficult stage for management as well as competition. Competitors won't let those clients go easily—"They're hoping you give up," Gomez says—and fatigue and disappointment can threaten a team's effectiveness from within.
"The only plan for the grind is persistence," Gomez says, adding that leading a team into that stage of business requires a careful management of expectations, pace, and stamina. "If you're doing a deal with a company, that process can take up to a year. That takes immense persistence. What got you there is that you delivered on that value proposition; now you have to stay engaged through that whole time." Successfully navigating the grind evolves the business and seasons the team.
Gomez also envisions Woodforest as a destination employer. That reputation is beginning to form, and he intends to see it develop over the coming years. "I want our peers in other banks to say, 'I hope one day I can work for them,'" Gomez says. "You want to be what people want to emulate. I can't ask for better validation or proof of concept."
At the top of his and his team's weekly meetings, they refer to ideas drawn from Lisa Earle McLeod's works Selling with a Noble Purpose and Managing with a Noble Purpose. What have we done, they ask, to act conscientiously and put our clients first?
Gomez recalls one client who mentioned that his enterprise was engaging in recovery efforts after Hurricane Harvey. Woodforest offered the client an advance, unasked, to support that moral vision and demonstrate a shared interest in the community. What's best for the community now, he suggests, will pay dividends in the future.
"We recognize that if our clients are healthy and successful, they will do more business with us and introduce us to their friends," he says. "But that's only if we do it consistently, so it's built into our DNA: are we behaving with a noble purpose as it relates to our client?"
Woodforest has been especially successful among entrepreneurs because Gomez's bankers all have been entrepreneurs themselves. They understand the challenges, the passion, and the depth of the personal investments, so the team is well positioned to ask the right questions and forge long-term, mutually productive partnerships.
As for his own history with small business, Gomez recalls a moment in 1977 when he and his father each had exciting news to share with the other. Willy had just been accepted to attend the University of Miami; his father congratulated him, and then announced he had just quit his job to start his own business.
"Needless to say, my half scholarship quickly became a full scholarship," Gomez  says, laughing. "I grew up in an entrepreneurial household, so I know what it's like; I know the pains that are involved. And to this day, my dad and my brother run that same business."