When Valerie Insignares was growing up on the southeast side of Chicago with her grandparents, both Mexican immigrants, she developed a deep love for food. She loved the way it brought her family together. "When other kids in the neighborhood were playing school, I was playing restaurant," Insignares says. "I have always known I wanted to be in the business."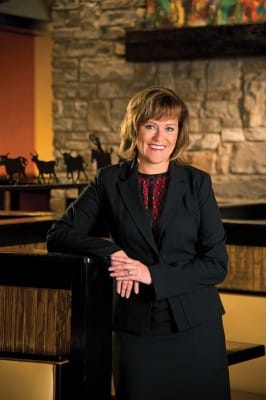 Insignares's family valued education above all else. She attended the University of Illinois to study finance, concentrating on speculative markets. Insignares liked knowing exactly how a business handled its money. She interned at the Chicago Mercantile Exchange as a runner in the cattle and hog pits. In her final year as an undergraduate, Insignares met Dr. Phil Garcia, an agricultural professor, who, like Insignares, grew up in an urban environment. He became a valuable mentor and inspired her to get her master's degree.
She was one of just a few female students in her agricultural economics program. Her thesis on managing beef market risk would foretell her future success at Darden Restaurants, the company that owns LongHorn Steakhouse, Olive Garden, and other leading restaurant brands.
Leveraging her education and experience, Insignares worked in the purchasing department at Kentucky Fried Chicken, in risk management. She was in charge of trading soybean oil, corn, and wheat futures for the company. The position was the start of her willingness to be geographically flexible. "I could have taken a job in Chicago near my family, but I wanted to be involved in the restaurant industry," Insignares says. "My willingness to move to different places opened a lot of doors for me."
Insignares moved in 1997 to Orlando, Florida, where she had responsibility for everything except seafood as the director of commodities purchasing for Darden. Using skills she had already learned through college internships, KFC, and subsequent jobs, she was able to impact a large chain by managing the commodities purchasing for a variety of restaurants instead of just one.
By 1998, Insignares was ready for a new challenge. She accepted a role as the vice president of distribution for Darden, an area in which she had very little experience. She had to learn to manage people as she was no longer the subject matter expert in this role. Managing distribution, IT, and purchasing, she got to know the people side of the business. She led a cross-functional team to transition the complex distribution system. "Keeping the progress moving forward was of the utmost importance," Insignares says. "If we got stuck, it would have put the restaurants' supply at risk."
The experience inspired her to return to school at the University of Florida where she would earn her MBA. She also got married that year. "People said I was crazy going back to school while I was so busy, but without obtaining that level of education, I wouldn't have been able to climb to where I am today," Insignares says.
Olive Garden welcomed Insignares as vice president of operations excellence in 2000. Immersing herself in the business, she went through Darden's manager-in-training program. She learned how to work the fryer, cut up vegetables, and manage all areas of the restaurants. "I had learned how to be comfortable managing without having to be the expert on everything," Insignares says. "The program gave me the opportunity to learn the business from the ground up."
By 2001, Insignares had been promoted to senior vice president of operations, for which she moved to Dallas. From Texas, she led operations in eight southwestern states. Her first daughter was born in Texas in 2003. Continuing to be geographically flexible, Insignares traveled about 80 percent of the time. She was inspired by the diverse, hardworking people staffing the restaurants. "I took it one step at a time and pinched myself along the way," she says.
In 2004, Insignares moved back to Florida to become the executive vice president of operations for Olive Garden. During this time, the chain underwent an aggressive growth phase. Insignares and her team added more than 250 restaurants in seven years. In 2007, Insignares had her second daughter.
Insignares accepted the newly created position of chief restaurant operations officer (CROO) in 2011. In this role, she helped standardize enterprise operations, such as reviews and bonuses, and redesigned the organizational structure. "We felt that we needed to reposition our leadership so we were closer to the actual restaurants," Insignares says. "We made significant changes across our three large brands to make that happen."
Insignares became the president of LongHorn Steakhouse in January of 2013. Darden bought LongHorn in 2007, and while it's not the biggest chain of steakhouses in the country, Insignares thinks that it can be the best. She was excited to take on a broader leadership role with a strong brand and to be able to craft the vision of the company. Now the company has expanded to 460 restaurants in more than 40 states. She's proud of the great experiences that the restaurant teams provide guests. "We want to continue the positive momentum we have gained over the last few years," she says. "With culinary creativity and brand recognition, I think we can make LongHorn America's favorite steakhouse, one restaurant at a time."