Gabriela Cocco-Sanchez never thought she would end up in the entertainment sector. Her parents owned a martial arts academy, and growing up, she spent almost twenty years in the dojang training and teaching tae kwon do. It seemed like a given that she would join the family business.
That all changed when her dear friend and mentor Jesus Laura told her about an opening at EMI Records Latin America in 1998. Since then, Cocco-Sanchez has built an impressive résumé promoting Latin content, from MTV Latin America to Universal Music's International Music Feed and GoTV Networks. She was even named one of Billboard's "30 under 30" in 2007, along with Facebook creator Mark Zuckerberg. "He did a lot better," Cocco-Sanchez jokes.
Today, she is vice president at Bunim/Murray Production's Latin division, BMP Latin. Cocco-Sanchez is paving the way in Latin American reality television, creating and developing content for the US-based Hispanic millennial.
"Latin reality is a new genre for most networks," says Cocco-Sanchez. "But more and more people are investing in the space, and I think if we get a couple of hits out there, we'll get more people to invest."
One of her creations is the TV show Combate Americas. The Latin mixed-martial arts competition show premiered last spring, and it was the first project Cocco-
Sanchez worked on at BMP. The project fell into her lap, and it was a perfect fit. She used a combination of her life experiences to get the show to air on NBC Universal's Mun2 (pronounced mundos).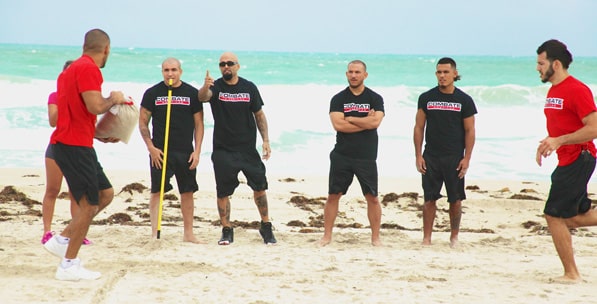 "It wasn't an area I was looking into at the time," Cocco-Sanchez says. "But then I met Ultimate Fighting Championship founder Campbell McLaren. We were both at a conference where he was the moderator, and I was one of the panelists. At the time, I was working on a project with Mexican American MMA fighter Tito Ortiz. McLaren and I started talking about my background in tae kwon do, how I ran BMP Latin, how my brother is a top jiujitsu competitor, my already established relationship with Mun2, and it all unfolded naturally."
McLaren had wanted to launch a new league of Latino MMA fighters, and that was the birth of the show. BMP backed it, and it was an incredibly short turnaround. The show was shot in Miami over the course of five weeks, and Cocco-Sanchez says it was an intense and exhausting experience.
"Reality TV is an incredible act of improvisation," Cocco-Sanchez says. "You have a master plan, but every day that plan is challenged and takes you to really exciting places."
Right now, Cocco-Sanchez is working on two projects with Televisa USA. The first is a dance reality competition show adapted from the Argentinian hit show Soñando Por Bailar. She's also working with Selena Quintanilla-Pérez's widower, Chris Pérez, on a docu-reality project surrounding the 20th anniversary of the singer's death.
"There isn't a network out there right now that doesn't want to cast a Latino in their show."
On top of that, Cocco-Sanchez is spearheading a new project with ex-FOX executive Emiliano Saccone and TV and film producer Julio Caro. The show is a supernatural scripted series and is written by Enrique Torres, one of the biggest names in the space.
"I feel like within this world of Latin content in the US, there aren't many household names who are TV stars or film stars," Cocco-Sanchez says. "Sure, you have your Penelope Cruzes and your Salma Hayeks, but they weren't born here. I want to be part of the movement that makes these US-Latino superstars. I think that the time for that has finally arrived."
She does this by constantly pushing the envelope. Take Skywatchers, for instance. The show centers around UFOs and award-winning journalist Jaime Maussan and is a revamping of his UFO investigations on Televisa in Mexico. Cocco-Sanchez also has a project moving forward with Tito Ortiz and a factual entertainment show about a high-end security company in Las Vegas.
She brings a unique flair to the Latin division as an American-born Dominican and a 15-year veteran in the entertainment and music industry. Content for the millennial Hispanic becomes increasingly relevant as the demographic emerges as a prominent majority, and networks are shifting content from more Spanish-dominant programs to programs created by US Latinos with that voice. Cocco-Sanchez thinks this shift will also benefit non-Latinos, and she hopes to script and develop great Latino-based shows that are enjoyable for anyone.
As for the future, Cocco-Sanchez says that Latin reality is still in its growing stages, and it's changing very quickly. People want to identify with reality TV. A lot of programming now still mirrors US reality shows, and new perspectives or different life experiences aren't shown enough on network television yet.
"I think we're going to see a lot more breakout shows like the CW's Jane the Virgin and a lot more Oscar-winning and Emmy-winning directors and producers," Cocco-Sanchez says. "It's just kind of an explosion of talent. There isn't a network out there right now that doesn't want to cast a Latino in their show. I believe competition will bring excellence. It's a fun time to be in television."