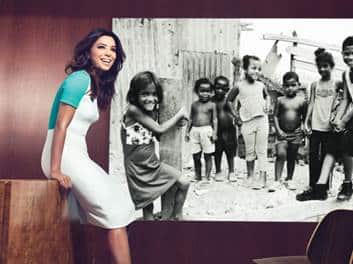 Deep within a barrio of Cartagena, Colombia, Eva Longoria asks a 13-year-old girl if she's scared to be a mother. Another teenage mom living in the slums tells Longoria that she wants to work as a chef and study criminology when she graduates from high school in four years.
The actress and philanthropist visited the city as part of a documentary mini series aimed at exposing the struggles women face globally. A Path Appears took inspiration from a book under the same name by Pulitzer Prize-winning journalists Nicholas Kristof and Sheryl WuDunn. The documentary follows celebrities—Longoria, Mia Farrow, Jennifer Garner, Ashley Judd, and Blake Lively among others— to Kenya, Haiti, United States, Colombia and other countries in order shed light on gender-based issues from human trafficking to breaking the poverty cycle.
Longoria was excited for the opportunity to work with Kristof because she shares the same philosophy of changing the world through women.
"Any change you want to make in a community should start with the women because she will change the economic status of her family," says Longoria. "If she changes the economic status of her family, then she changes the community."
When she heard Kristof was making his book A Path Appears into a documentary, she felt she absolutely had to be a part of it.
"I love the medium of documentaries," Longoria said. "It's the best way to humanize an issue. I can tell you numbers, data and statistics, but that doesn't resonate with you until you see the face of the person who is behind those numbers."
The nongovernmental organization Plan International estimates that in Colombia about 20 percent of teen girls between the ages of 15 and 19 are either already mothers or they're pregnant. In the slums of Cartagena, Longoria remembers not being able to walk two steps without seeing a pregnant teen. In the documentary, she works with the Juan Felipe Gómez Escobar Foundation (JuanFe), with an aim to break the cycle of teen pregnancy.
"JuanFe is run by a wonderful woman named Catalina," says Longoria. "Her 360-degree approach is the best thing about the program. It provides everything for pregnant teen girls – from medical care, childcare and schooling to work training skills and job placement. You can't just put a Band-Aid on one part of the problem and expect their lives to magically fix themselves."
The girls at the foundation aren't slapped with Band-Aids. Instead, they are given full attention, from counseling sessions to education. Longoria's most vivid memories stem from seeing these young mothers open up in therapy sessions.
"To see them let everything out and cry and let us into their hearts and into their minds is really touching," says Longoria. "It's a really important part of their healing and changing their lives."
Compassion is a quality that has shaped Longoria's path. She says she is constantly being "bitten by the compassion bug." In 2006, she opened the foundation Eva's Heros for developmentally disabled children, followed by the Eva Longoria Foundation for empowering Latinas through education in 2012.
She has scoured the globe for philanthropic and business models that can be replicated to create sustainable change and has come to the conclusion that the key to breaking the cycle of poverty is through education.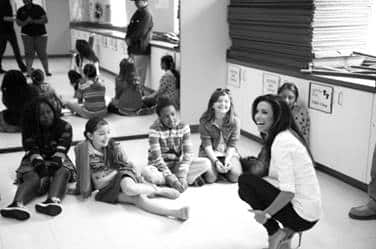 Longoria says she identifies with these teenage mothers in Cartagena as women, more than sharing a common race or any other factor. "I think that no matter where you are in the world, people understand motherhood," says Longoria. To be able to see their daily lives, their struggles and their compassion inspire her.
But the issue of teen pregnancy is so much more than just giving these girls some condoms or teaching safe sex. It's a combination of circumstances–living among drug cartels and families abandoning young girls for food or money, turning to prostitution and sex trafficking, and it all comes down to self-worth. When everyone in the community is telling them that this is as good as it gets, these young girls feel that the bubble of their community is all they have. Longoria needs them to know that it's simply not true.
"The great thing about education is that you can intervene at any time in your life," says Longoria. "If you're a 40-year-old woman with three kids, you can go back to school. If you're a teenager who has a baby, you can finish your high school education. You can continue to improve yourself. I want the cycle of teen pregnancy to come to an end. These young women can find another way."
"Even though there will be people who turn their backs on the issue or try to tear these people down, there are others who are ready to build them back up," says Longoria. "Being a philanthropist is not easy. It's hard work. It's complicated work, but you have to try and try again. You have to have the endurance and the stamina to be able to see these problems in the world and approach them with the idea that they are solvable. I hope viewers see that compassion is alive and well around the world through the documentary. Unfortunately in news cycles, these stories are put to the bottom of the list. They're not glamorous stories to be told. They need star power to give a voice to those who need to be heard, but you don't have to a celebrity or be rich to help. Everybody can and should help."